As it stands four teams have already gained a berth in the IAFL1 playoff stage :
The Westmeath Minotaurs
Trinity College Dublin
The Craigavon Cowboys
The Wexford Eagles
However, it is not yet clear which of these will take 1st, 2nd, 3rd and 4th seed.
The playoff games will take place on July 14th. Both games will be hosted by the top 2 seeds respectively.
Before we get to the scenarios here is some key factors to help us determine the possible outcome of each scenario.
Minotaurs beat Trinity on May 12th
Minotaurs beat Eagles on March 30th
Trinity beat Cowboys on March 3rd
Cowboys beat Eagles on June 9th
Minotaurs play Cowboys on June 30th
Eagles play Trinity on June 30th
Section 3 U 4 of the bylaws (page 25) stipulates "In the event that any team fails to complete 2 or more regular season fixtures, all its games will be regarded as 30-0 forfeits for the purposes of calculating the points allowed in these specific tiebreak categories." Since both the Waterford Wolves and Galway Warriors have forfeited 2 or more games during the season, all the games each team has fully played will brought (up or down) to a 30-0 score for the non-forfeiting team. For example, the Wolves lost to the Cowboys 73-0, if a tiebreaker needs to be applied then the score will then be changed to 30-0 therefore affecting the NET total of points scored. (phew!!)
The current standings as of last weekend are:
So – unto the scenarios. There are 9 possible outcomes so bear with us while we lay them out for you.
#1
#2
#3
#4
#5
#6
#7
#8
#9
#1
Minotaurs beat Cowboys / Trinity beat Eagles
Minotaurs are 7-1, Cowboys 6-2, Trinity 7-1 and Eagles 5-3

Cowboys are 3rd

 seed and Eagles are 4th

 seed automatically

Since Minotaurs beat Trinity on May 12th

, 

Minotaurs are 1st

 and Trinity 2

nd

 seed

Playoff games are Minotaurs vs Eagles in Mullingar, and Trinity vs Cowboys in Santry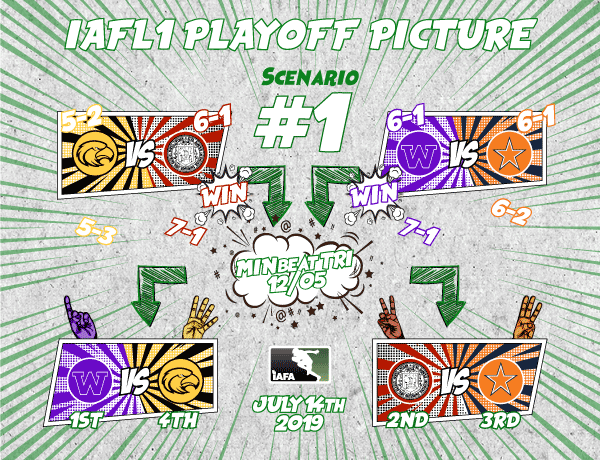 #2
#3
#4
#5
#6
#7
#8
#9