The Team Ireland flag football team is currently competing in the EFAF European Championship Finals in Italy. The competition is taking place in Pesaro from 22nd to 24th September 2013.
Ireland has been drawn in Group B for the group stages alongside Germany, Italy, Denmark and the Netherlands. Group A consists of Austria, France, Israel, Czech Republic and Great Britain.
Each team plays round robin within their group on the 22nd and 23rd. A series of play-off games on the 24th will decide the final order from 1st to 8th.
The Irish team is being coached by Ken Farrell and consists of players from senior flag football teams.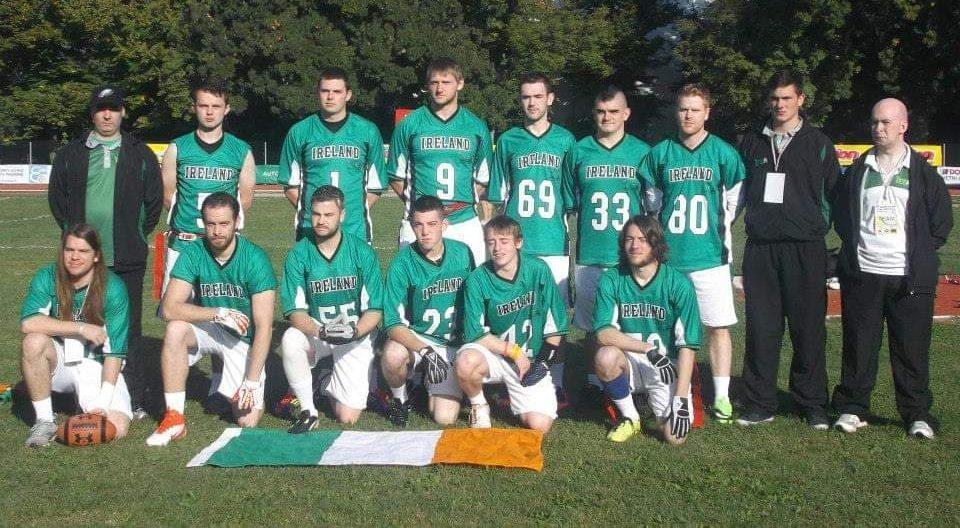 Team Ireland Squad:
Brennan, Conor – QB, Mullingar Minotaurs
Corroon, Dermot – WR, Mullingar Minotaurs
Elston,Ted – S, South Kildare Soldiers
Elston, Will – CB, South Kildare Soldiers
Grey, Joe – QB, Terenure Titans
Loughran, Peter – CB, Cragavon Cowboys
Moran, Darragh – LB, Edenderry Eagles
Nolan, Gary – LB, Mullingar Minotaurs
O'Donnell, Brian – LB, Edenderry Eagles
Purcel, Nathan – C, Edenderry Eagles
Sommerville, Gary – WR, Dublin Rebels
Whelan, Eoin – RB, South Kildare Soldiers
Group B Fixtures/Results:
Sunday 22nd:
Germany 52:13 Ireland
Ireland 00:58 Denmark
Monday 23rd:
Ireland 36:60 Netherlands
Italy 39:06 Ireland
Tuesday 24th – 9th place play-off:
Ireland 24:39 Czech Republic