Only just a week in the role of Commercial Director and newly appointed Kate Sherry has already managed to have the word spread about IAFA and more specifically Shamrock Bowl 33 in a short feature on the Sport for Business website.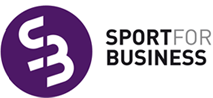 Sport for Business is publishing, networking and events business at the heart of the commercial world of Irish sport. They connect sport and business in ways that go well beyond the standard forms of sponsorship and hospitality.
Through our industry-leading Sport for Business Daily Digest, Sport for Business engage daily with an audience of 4,000 leaders in sport, business, politics and society.
Sport for Business host and partner with over 30 events during the year and they work closely with their members to make things happen for them.
The Shamrock bowl will be held in Energia Park, Donnybrook on August 4th and will see the Belfast Trojans take on the South Dublin Panthers in what should be a craic of a game. Tickets are available for purchase by clicking the big green "Buy SBXXXIII Tickets" button found to the right hand side of your screen.
You can find the featured piece at the following link Sport for Business.