Two massive games in IAFL 1, with all four teams having already qualified for the playoffs but home advantage still up for grabs!
Craigavon Cowboys (6-1) @ Westmeath Minotaurs (6-1)
First versus third in what is a heavyweight match up as the Craigavon Cowboys travel south to take on the table toppers, Westmeath Minotaurs. All to play for as a win for either team would guarantee a home semi-final game on 14th July. The Minotaurs are coming off their first defeat of the season, where they were beaten 26-34 by the Louth Mavericks, whilst the Craigavon Cowboys have won six in a row, beating the Wexford Eagles 27-13 in their most recent match.
It was a disappointing result for the Minotaurs in their last match as their unbeaten ambitions came to an end. However Minotaurs head coach Conor Brennan isn't fazed by the result and is confident his team can get the job done on Sunday "We're looking forward to what will be a great challenge in the form of the Cowboys. There is a lot to play for in terms of playoff seeding. We're looking to right a few wrongs after a disappointing showing against the Mavericks last time out. We'll have to be at our very best to come away with a positive result."
The Cowboys have improved significantly since their first game loss to Trinity. Whilst having the same record as the Minotaurs and Trinity, they find themselves in third place. Nothing but a win will do this Sunday as Cowboys president Jo Buchanan explains "The team are excited to travel to Mullingar this Sunday for a game we very much want to win. Our offense has really begun to click, whilst our defense has been on fire all season so I believe we are starting to come together at the right time. The Minotaurs always present a tough challenge, but we feel well prepared for the game."
Location: Mullingar RFC
Kick Off: 2pm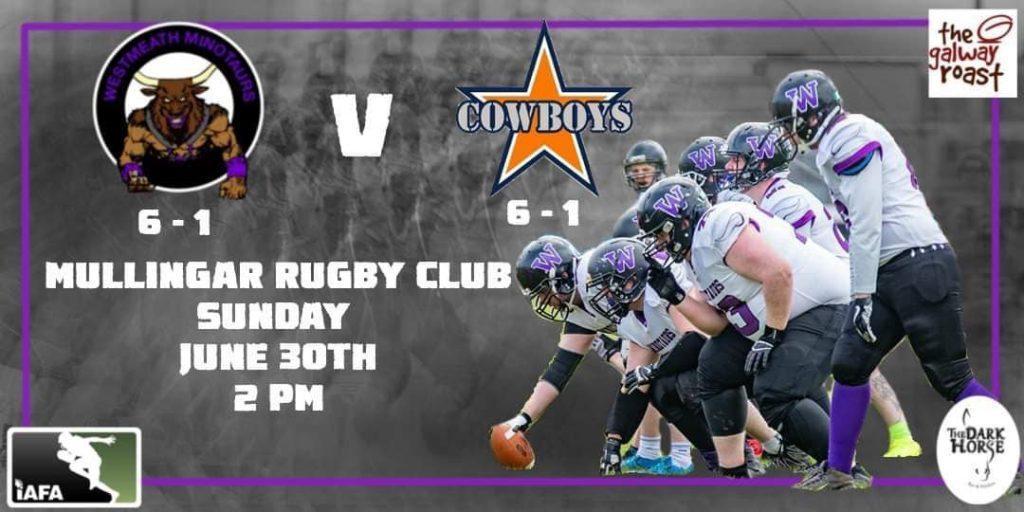 Trinity College (6-1) @ Wexford Eagles (5-2)
A huge game for both teams who are in a quest for a home playoff game. Trinity currently sit second in the table and will secure a home semi-final should they win. The Eagles however face little to no chance of hosting a home semi-final, with only 1 of 9 possible outcome scenarios giving them hope. Both teams will both be looking for a win here to gain some momentum going into the playoffs.
Trinity have not played since 12 May where they were defeated for the first time this season by the Westmeath Minotaurs (06-21). Despite the extended break following a loss, Trinity secretary Rory O'Dwyer is confident his side can dig deep to get the win this Sunday "Trinity are looking forward to being back on the field after a series of unfortunate forfeits mean this will be our first game since mid-May. Even though we go in 6-1, we are by no means underestimating our opponents. The Eagles are a well-coached, strong side that are tough and hard hitting, we expect a very physical game."
It has been a mixed season for the Eagles, who have faced many challenges but have proved worthy of a playoff spot. Eagles head coach Kevin Klatt will be looking for his team to continue on from where they left off in their last match versus the Vipers "This will be the first time we've ever played Trinity, and we're really looking forward to meeting such a top-quality opponent. This is the type of game that can tell us how far we've come with our own game, as well as what we need to work on heading into the play-offs. While we know that this game will have a significant bearing on who plays who, and who plays where in the semi-finals, our guys understand very well that the only thing we can control is what happens in our own game, and that's what we're focused on. We had an excellent result in our last away game to the Vipers (a game the Eagles won, 50-6); all phases of our game clicked well on the day, and we'd like to keep that momentum going. But Trinity have only lost one game this year, and we expect a massive battle in our last home game of the season."
Location: Gorey Celtic FC, Wexford
Kick Off: 2pm
Season Over
A disappointing end to 2019 for the Louth Mavericks (5th, 4-4) having hoped to bounce back into the SBC straight away following relegation last year. A tough start to their season saw them fall to 1-4 but a strong end to the season culminated with them beating the former unbeaten Westmeath Minotaurs and finish with a 4-4 record. Not the immediate return to the SBC the Mavericks were hoping for but the rebuilding process seems to be taking serious shape and should see them right in the mix once again next year.
Not the season the Donegal/Derry Vipers (6th, 2-6) where hoping for, whose only wins came via forfeits. The squad is certainly in a rebuilding phase having lost key players to injury and retirement after the 2018 season. Offensive struggles proved to be the sticking point this year, with the offense only scoring 33 points in the six games they played, including their first three games where they failed to score any points. Credit to the Vipers who stuck at it when the going got tough, plenty of room for improvement for next season which they will for sure be working hard on in the off season.
A season to forget for both the Waterford Wolves (7th, 1-7) and the Galway Warriors (8th, 0-8) who both faced major struggles on and off the pitch this year. The Wolves only win of the season came via a 29-0 win against the Warriors. Both teams will need to regroup quickly and begin preparations for 2020 as soon as possible to avoid a repeat of this season.