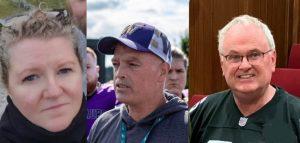 The Board of American Football Ireland today announced the appointment of Tom McCormack as its Chief Communications Officer, Bill Dougherty as its Director of Coaching, and Nuala Collins as its Child Protection Officer. Two new Management Team positions have also been made available — Director of Flag Football, and Director of Youth Football. New information can be found in the Open Positions section here.
Tom has extensive experience and expertise in sports marketing and communications having previously worked with Leinster Rugby, Six Nations Rugby, the British & Irish Lions and PRO 12 Rugby. An avid American Football fan, Tom is a former backup tight end with the Dublin Celts, and is no stranger to the landscape of the sport here in Ireland. He previously advised the Notre Dame Fighting Irish Media Department in 2012 when they played Navy in the Aviva Stadium.
Tom also worked with the late great Dan Rooney and colleagues in the American Ireland Fund, and with Sir Tony O'Reilly on Heinz and other corporate interests. He is a former President of the Ireland-America Society and an active part of the global Steelers Nation! Other professional governing bodies that he has worked with are the Institute of Chartered Accountants and the Society of Chartered Surveyors.
Bill Dougherty has previously held other roles within AFI, including Director of Youth Football, and has now moved across to Director of Coaching. Current Head Coach of the Westmeath Minotaurs, Bill has been involved in American football in different aspects for most his life. Becoming a part of the AFI community in 2016, Bill has since been a key part in driving the growth and development of the on-field product and administrative side of the game, and we are thrilled to have him involved in the teaching and progressing of Ireland's American football coaches in all levels of the sport.
Nuala Nuala has worked in Child Protection and Safe Environment capacities since 2006. Prior to Child Protection Nuala has worked in various Health Care Settings, primarily Mental Health since 1995. In 2006, Nuala began working for the Roman Catholic Diocese of Syracuse in New York as the Director of Safe Environment and Victim Assistance. From there Nuala worked for Acquired Brain Injury Ireland as the Training Manager where she also became a HSE trained Member of the Safeguarding Team for ABI Ireland.
Currently, Nuala is the Manager of an Assisted Living Facility for the Missionary Sisters of the Holy Rosary in Dublin. In all of these roles, Nuala has played an active role in the development and implementation of their Safeguarding and Child Protection policies and trainings. In all of these roles, Nuala has worked extensively with individuals that have been impacted either directly or indirectly by abuse in all forms and firmly believes that it is the responsibility of communities as a whole to create Safe Environments for children and all those vulnerable.