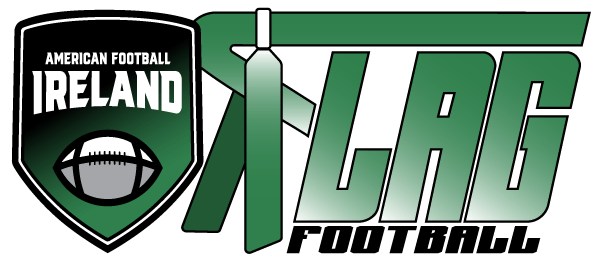 WHAT'S FLAG FOOTBALL?
Flag Football is a version of American Football played without the charateristic contact element between players. In Flag Football, tackling is not allowed, instead flags are attached to the ball carrier's belt, one on each side of the waist. When a player manages to pull one flag from an opponent, the game stops and another play begins (down) the same as a player being tackled in American Football. The rules are almost the same, the only difference is that the physical contact is almost non-existent.
Flag Football is the fastest-growing format of the game on the Emerald Isle, encompassing schools, colleges, and the community. Everyone can play regardless of fitness level, experience or gender. Playing Flag Football is an excellent way to exercise and stay in shape. While being an alternative to American Football, you are constantly running, sprinting, tumbling and tossing the ball – all in just one play. No matter at what level you play Flag Football, you are bound to get a good craic. Flag Football is the perfect sport for young players who'd like to go on to play American Football at an older age and for adult players interested in keeping fit and having fun doing it.
HOW TO SCORE?
Flag football regulation in Europe is overseen by the IFAF (International Federation of American Football). Basically, the rules of the game are based on American Football but with some differences. The objective is the same, there are four opportunities (downs or pulling-off of the flag) to cross the midfield. Once you cross the midfield there are four more opportunities to reach the end zone and score a touchdown. If a team succeeds in reaching the end zone they score 6 points and have the option to add a further 1 or 2 points with an extra play or "conversion".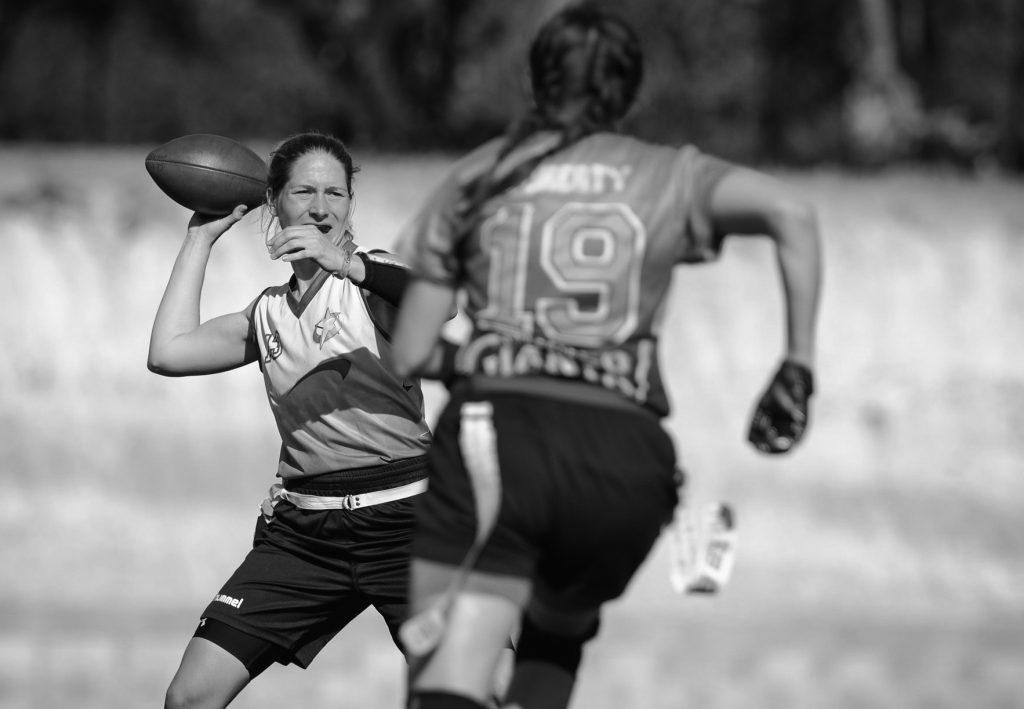 BENEFITS OF PLAYING FLAG FOOTBALL
It is complementary to other sports, non-contact so low injuries, works on similar fundamentals of other sports, helps you stay fit during the off season while, improving ball handling skills and spatial awareness.
It is easier to create a team. 8 people can be enough to make a competitive team.
It is very affordable and hence, more inclusive. You only need a belt, a pair of flags and a football.
It is appealing to male and female players willing to practice American Football safely.

All physical constitutions are welcomed. Every physical condition has its position and role, and that is the greatness of Flag Football, it doesn't discriminate.

It is growing exponentially and can become an Olympic sport in the coming years. You can also become a European or World champion!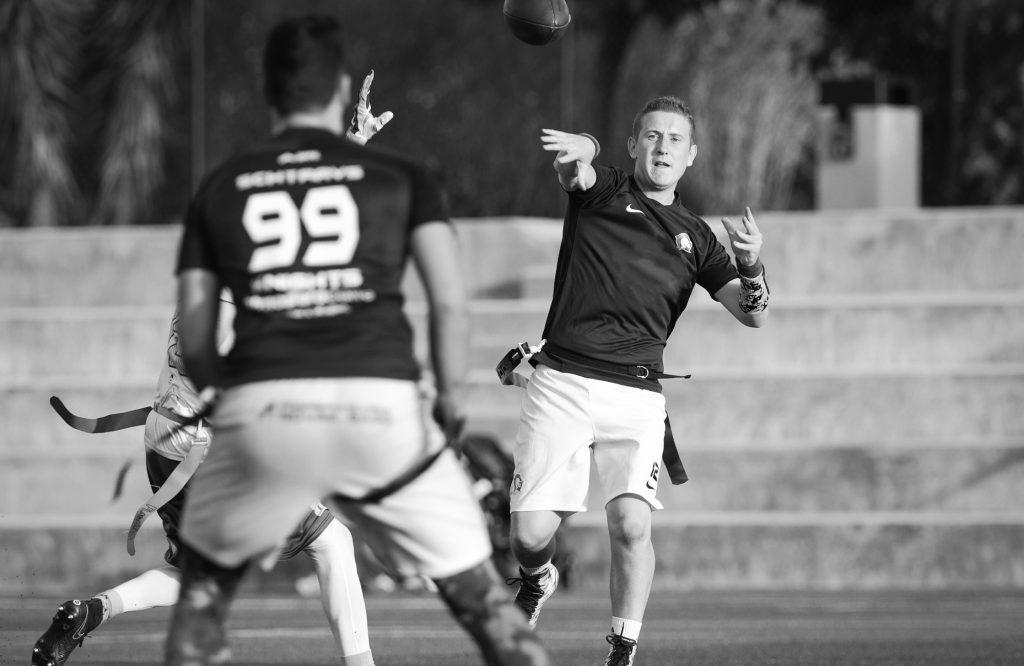 FLAG FOOTBALL IN IRELAND
American Football Ireland (AFI) Flag Football currently runs two mixed (or co-ed) leagues:
Although both leagues run on a similar format, AFI Flag Premier Division is the premier league of Flag Football in Ireland with the top twelve Flag Football teams on the island competing for a chance at the Emerald Bowl (Premier Division Championship game) at the end of the season.
AFI Flag Division One, on the other hand, is built for new entrants and teams wishing to develop their squad to Premier Division level. All teams will have a chance to battle it out for the Glas Bowl (Division One Championship game). Both leagues are linked with a promotion/relegation scheme ensuring a fair level of game for all teams and participants involved. There are teams in most parts of the country, some affiliated to American Football clubs and others independent. Find you local club here.
We also are also beginning to introduce the sport to schools and are keen on having an all-women's league in partnership with the Women in Sport programme which is supported by Sports Ireland and the Federation of Irish Sports.
The National Flag Football programme (better known as the Irish Wolfhounds) trains during the off-season with its men's team and women's team with the objective for both teams to represent Ireland at future international IFAF Flag Football championships.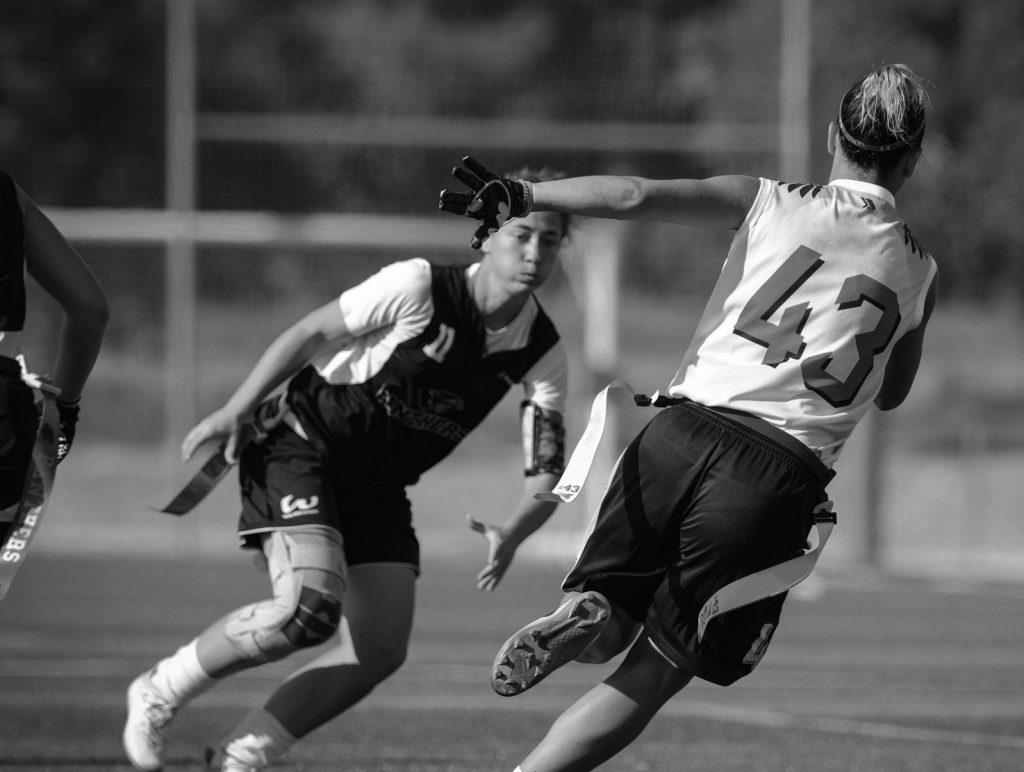 What if you want to get involved
American Football Ireland Flag Football works to cater to all fans of the game, so if you would like to get involved as a player, coach or other aspects of the game, just give us a shout via the website contact form here.
American Football Ireland Flag Football is run under the direction of the American Football Ireland board.
photo credits: Stefano Scaccia PhotoSport