American Football has been played in Ireland since 1984 when the first training session was held in the Phoenix Park, Dublin. Fast forward to today, and we have a number of American Football programmes to cater for players aged 16 and up.
Senior Leagues
In 2020, we have 20 clubs participating playing across three divisions; the
AFI Premier Division
, the
AFI Division 1
and the
AFI Division 2
.
The AFI Premier Division currently has eight clubs competing. The championship game, called the Shamrock Bowl, is currently held by the Belfast Trojans (Shamrock Bowl XXXIII).
AFI Division 1, with seven clubs in contention, consists of clubs that require some development to reach the AFI premier division level. The championship game, called the AFI Division 1 bowl, was won by the Craigavon Cowboys in 2019 who have been promoted to the AFI Premier division for the 2020 season.
AFI Division 2, with five clubs, covers all new teams to the sport or teams still very much in development phase. The championship game, called the AFI Division 2 Bowl, was last won by the Cill Dara Crusaders in 2019 consequently also promoted to the AFI Division 2 for the 2020 season.
Along with the rest of Europe, all our of clubs play using the NCAA rules, with slight modifications to suit the Irish platform.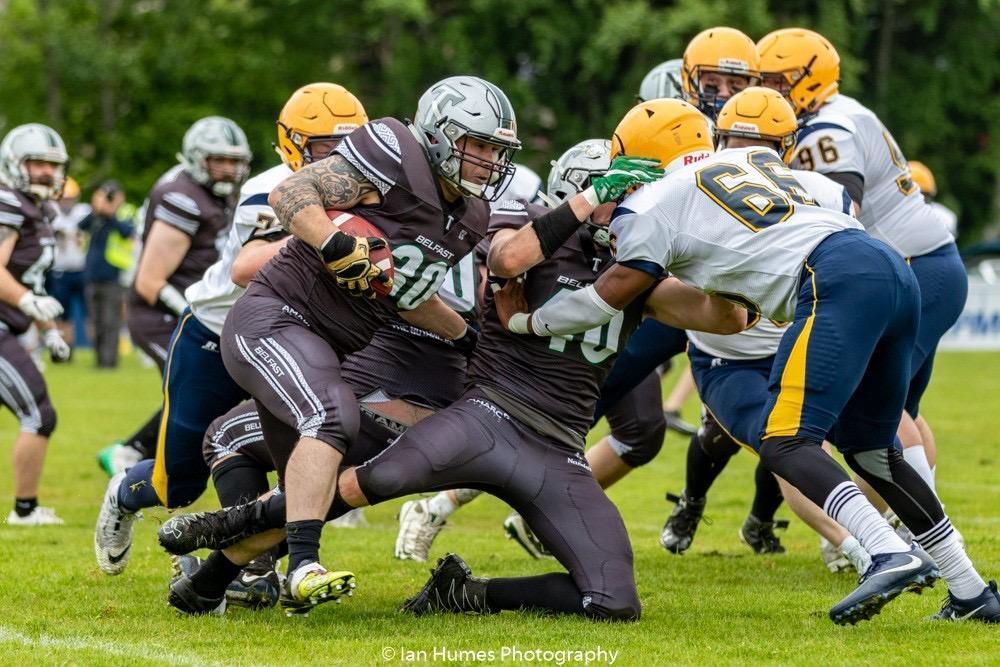 National Programme
In 2015, the
Irish National programme
, or better known as "
Irish Wolfhounds
", was implemented with the goal of establishing a programme to represent AFI and Ireland at the International level. This programme brings together the most experienced coaches in Ireland at each position to provide focused and advanced training to our elite players at both the senior and youth level. Both the senior and youth squads have their own dedicated coaching teams, with the programme overseen by the Director of National Programme Operations. In 2018 and 2019, the Wolfhounds Senior team beat the Belgium Barbarians.