IAFL 1 side Antrim Jets have announced ground-breaking partnerships with two clubs, the Coventry Jets from the UK and Australian club the Claremont Jets.
The Coventry Jets were formed in 2004 and they've been one of the most successful teams in the UK during their short history, having competed in six bowl games and four National Championships over eleven years. They also won BritBowl in 2008.
The Claremont Jets, based in Mount Claremont, is a suburb of Perth Western Australia, and they were formed in 1988 and played initially in an expanding Western Australia Gridiron Football League (WAGFL).
In 1996 as a result of the WAGFL folding, the Jets joined Gridiron West.
The Jets are also one of the most successful Western Australian teams, in terms of championships won, with the current Championship tally standing at 5. These included 4 in a row for the 92/93, 93/94, 94/95 & 95/96 seasons in the WAGFL.
In 1999 the Claremont Jets were Western Australia State Champions in the newly formed Gridiron West League.
Claremont Jets club President Bart Mills told us, "The idea to approach other "Jets" American football clubs around the world to join in on the partnership started to raise awareness about our great game, to leverage the social media side of our club and to help recruit players whilst offering further playing opportunities to those players."
"Having been involved in high level Rugby and Cricket I applied the same principle of having 'sister' clubs or 'partner' clubs either interstate or overseas to our club."
"I feel all the Jets football clubs will get a lot out of the partnership and I have already been contacted by clubs in Germany, Brazil and Japan."
"The difference in the seasons also gives us all the opportunity to trade players and give them game time 12 months of the year."
"It is an honor and a privilege to play, captain and be President of the Claremont Jets Gridiron Club here in Perth, Western Australia and I hope to stay apart of the club for a long time to come."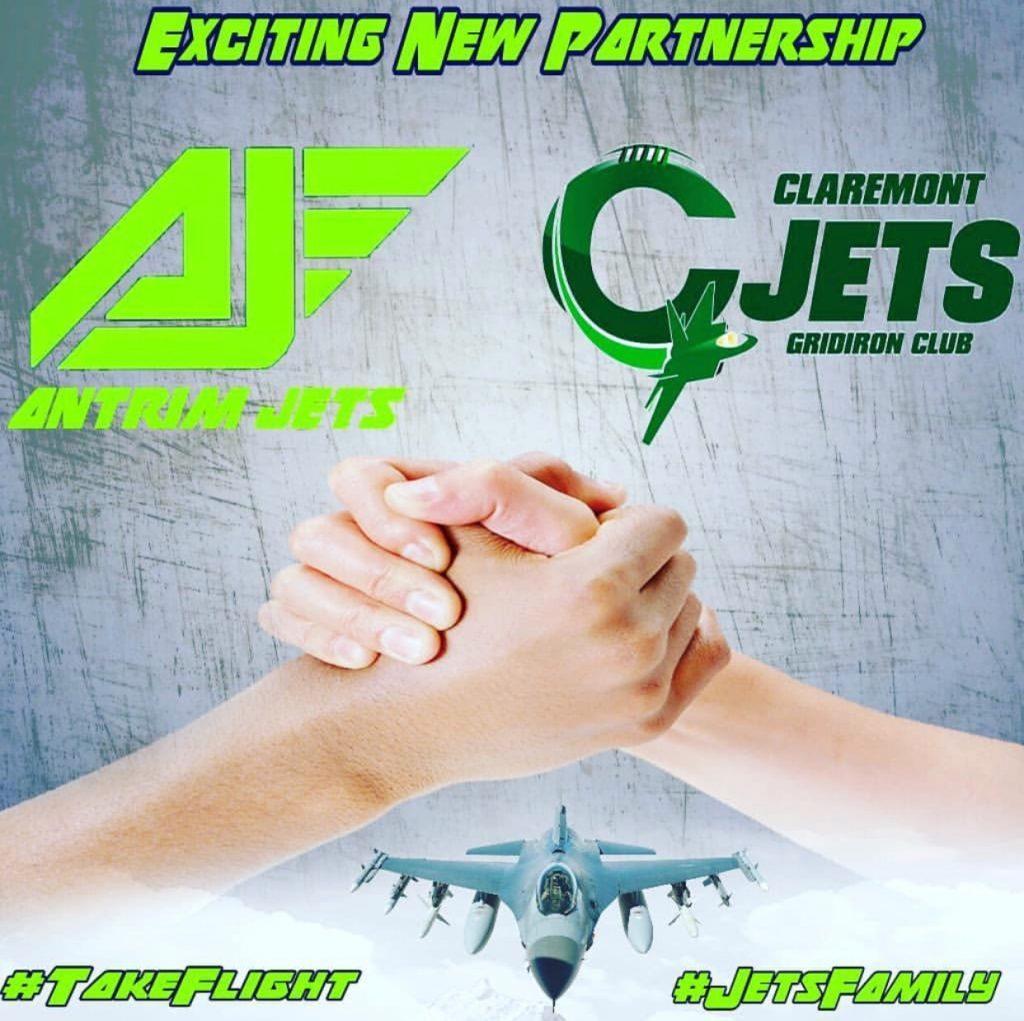 Speaking about the partnerships with the two clubs a spokesman for Antrim Jets explained why they got into the partnerships, "We decided to go into a partnership with the Coventry Jets in England and the Claremont Jets in Perth Western Australia because both clubs share a similar vision as ourselves, both on the field and in the Boardroom."
"All three clubs want to raise awareness for football in our native countries, work together on boardroom, coaching and player development along with co-branding, co-promotions and joint social media engagement opportunities, with the idea to help all three clubs grow both on and off the field."
"The reason we went with Coventry and Claremont was simple; Jets Family."
So what do the Jets hope to get out of the partnerships? "The main thing we hope to gain is friendship. Football isn't just another sport. It's more than that. It's about making connections with like minded people who love football and who want, not only their own teams grow and develop, but the sport as a whole."
"I can't speak for everyone but at times I feel that football feels like an exclusive sport, when in fact, it should be the complete opposite and inclusive to everyone. I know it's preached but it's not always practiced."
"Just like on the field every sunday, everyone needs to come together and work as a unit to achieve success. Well it's just as important for every club, every IAFA member and everyone involved in football worldwide to embrace that same mentality off the field as well to help our clubs and sport grow. That's the main reason."
"We also hope to learn how clubs in other countries are run. How do they recruit players? Can we learn from them, can they learn from us. Coaching and player development; can our coaches and players visit their training camps and work with them and vice versa. We're also hoping that it opens up sponsorship opportunities by having a small presence and reach in other countries to help appeal to potential investors. The development opportunities are endless so it's a no brainer."
Asked if there was a time limit to the partnerships he said, "No there's no time scale attributed to the partnerships. We just gotta ride the lightning and see where it takes us."
Have you looked at how other clubs have partnerships, and what they benefit from with it? "To be honest we haven't. It's not something i've really seen happen before. But as I mentioned, the potential for development of every club involved is there and once you make that connection and have a mutual agreement to work together on different projects and common goals, I'm sure it can only be a good thing."
"I think this is only the start to be honest. Not only could we look to partner up with other American Football teams around the globe, we can even look locally as well to partner up with different sports clubs in our area like GAA, Rugby, Soccer etc. that could open up a whole new recruitment, sponsorship, social engagement and fundraising avenues to help our club and our sport develop."
Do you think it will improve awareness of the Antrim Jets and American Football in Ireland in general? "Anything to help raise awareness of the Antrim Jets and American Football in Ireland is a positive. I would love to see new clubs form around the country but it's our responsibility as a football community to give them all the advice and the tools needed to help them get off the ground. It broke my heart earlier this year to see the Tyrone Titans have to suspend their season and the reality is that more smaller teams could go the same way unless we all come together to promote football and get more people involved in the sport, be it players, coaches refs, spectators or investors."
Could the partnerships lead to games between the clubs in the future? "Yes! That's the plan anyway. The Coventry Jets have already expressed a desire to come over this next pre-season for a friendly. Both our seasons start around the same time so after our seasons conclude, we will talk about the logistics to make it a reality. Then the year after we can maybe discuss about visiting them over in England."
Do you think it's something other clubs in Ireland should look into doing? "Yes. Why not? As I said, it can only be a positive."
The spokesman continued, "I follow football in Europe pretty closely and while I love the fact that we can get these show piece friendlies with the American colleges every year, a great achievement in itself, there are some fantastic teams in Europe. If clubs could make a connection with other clubs that seen some European sides come and play friendlies in Ireland on a consistent basis, that would be a game changer. Could you imagine every club in Ireland with a showpiece friendly every year? Home or away? It would just take the awareness of football over here to another level and every game could be a great fund-raising opportunity for the clubs involved. Just last month a few guys playing in England got recruited to the NFL. We've seen guys from France and Germany also get an opportunity. There are some really good teams right on our doorstep and we just have to open the door."
Picture Credit: Antrim Jets AFC