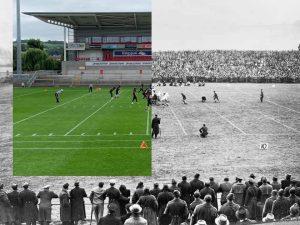 American Football Ireland is delighted to announce the establishment of an official AFI Hall of Fame.
History of American Football in Ireland probably spans longer than you think. The first kitted game on the island was in 1946 at Ravenhill Rugby grounds between two US army teams that called themselves Yavard and Hale; they swapped the first letters of the famous university teams. Nearly 80 years later, American Football returned to Ravenhill Rugby grounds. Presently, the venue is called Kingspan Stadium and the game was none other than Shamrock Bowl XXXIV which saw UCD American Football claim their first National Title in a 52-24 win over the Dublin Rebels.
American Football Ireland itself spans almost 40 years. Then established as the Irish American Football Association (IAFA), the history of AFI includes a number of different league formats (including a brief hiatus in the early 2000s) and dates as far back as 1984. The Belfast Blitzers were the leagues' first champions, having clinched the title in a 7-0 win over the Dublin Celts before the Shamrock Bowl was established. The first Shamrock Bowl was won by the Craigavon Cowboys in 1986. Then an invitation game, the Shamrock Bowl was adopted as the National Final in 87. The Cowboys would go on to win it again two more times in 1990 and 1992.
Following a brief hiatus in 2000, the league was reformed in 2001, with Carrickfergus Knights, Dublin Dragons, Dublin Rebels and University of Limerick Vikings. The Dublin Rebels defeated the Carrickfergus Knights in Shamrock Bowl XV, which was played in Carrickfergus. This marked the beginning of many years of success for the Dublin Rebels who currently hold a record-high 9 Shamrock Bowl titles. Their record is followed by the Belfast Trojans who won 5 titles in the 2010s. The most recent winners being the aforementioned students from UCD.
The AFI Hall of Fame looks to honour those individuals who have contributed significantly to AFI over its near-40 year history, incurring benefit to the game of Irish American Football. At the discretion of the panelists, considerations may include; performance; impact; longevity; achievements; additional involvement outside of the primary-nomination category, incurred growth or benefit to the sport.
The public may submit nominees along with any supporting documents to communications@americanfootball.ie.