2019 saw female membership in IAFA rise to 57, with many females starting their football journey through kitted football, flag football, coaching, officiating and volunteering. We spoke with Kelly Dwyer on her experiences of being a member of IAFA and what her roles consist of.
What sparked your initial interest in American football?
"Stockholm syndrome, essentially! I had no interest at all until I did my undergrad in Limerick. During those years, the Vikings lads became some of my best friends, and some of them still are. They're an absolute gas bunch! It was so much fun. It's a great club, and without them being so welcoming, encouraging and sound, I never would have gotten involved."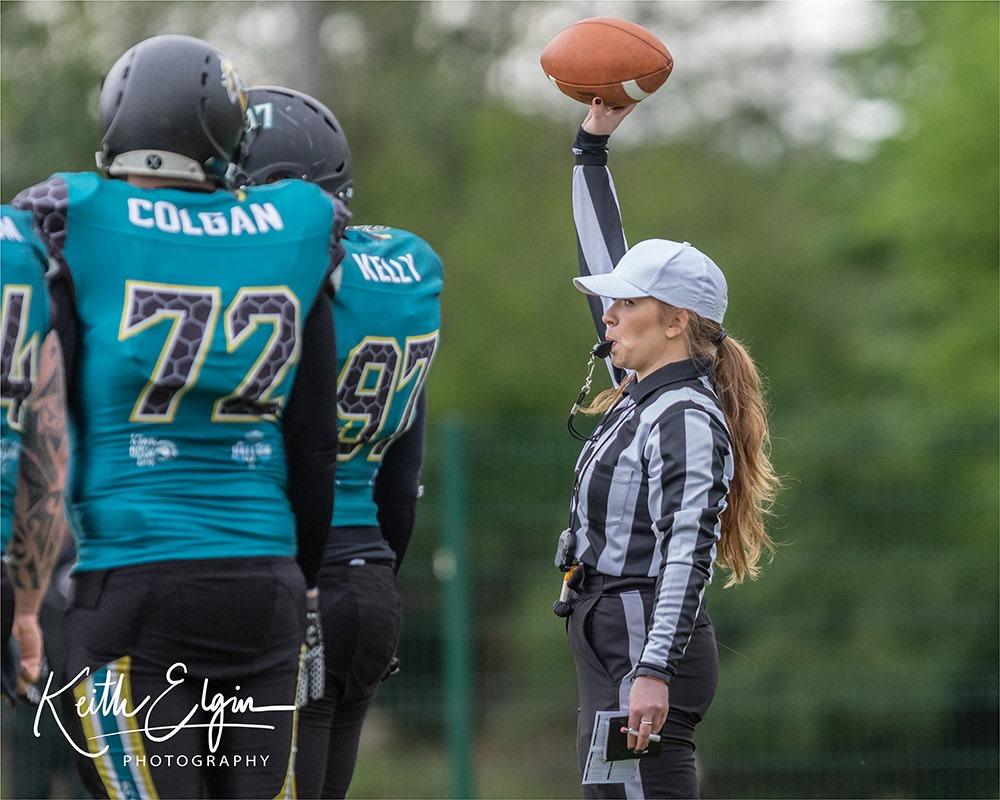 How did you get involved with your club/IAFA?
"I began ad hoc roles with the Vikings back in 2012. I began team officiating with them in either 2013 or 2014. In 2015, I was their director of officiating. There were new rules where officials had to have 2 years' experience within IAFA and the level 1 course passed to officiate that year. It made it difficult to get my role done and I drove those boys mad that year. But we hit all our assignments, and that was my job! When I moved to Monaghan, I started full-time league officiating and sure, been at that since."
What role(s) do you currently hold within your club/IAFA?
"I am a full-time official and the Officiating Appeals Manager. The officiating gets me traveling to different venues, meeting different people every weekend, which I love. Last year was the first year I officiated as White Cap. First game was Jets @ Razorbacks and it was rough (sorry lads!) but the others were ok!
The Appeals Manager is a new role that was created for the 2019 season. I developed a process so that appeals are now unbiased, effective and fair."
What is the American football environment like in Ireland?
"It's a small community so we all know each other. There's rivalry between teams, absolute roasting's, but that's half the craic. It's great fun and there's respect behind it all. It's not without its challenges, and game day can be stressful, but everyone on the field is there because we share a common interest. We're working together to develop the sport. I love it, it challenges me and I feel like I've met so many great people."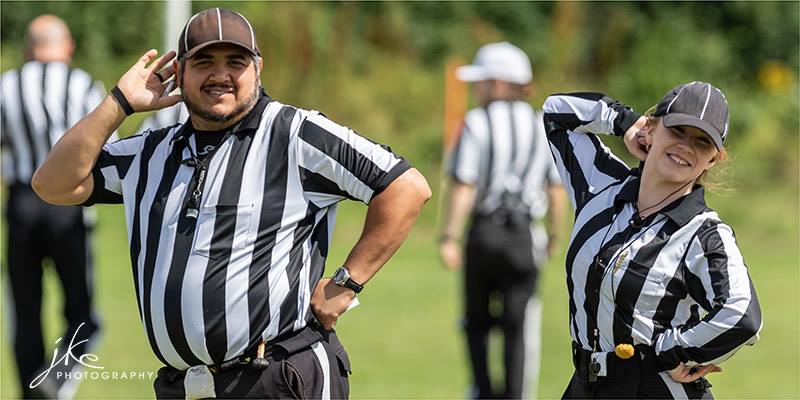 What advice would you have for a fellow female interested in getting involved in American football?
"Get it done. Gender is irrelevant. In terms of officiating, I get thanked, abused, roasted, praised, pretty much the same as any of my male counterparts.
There are obviously certain things that we (female officials) need that are different or additional to what the male officials need – privacy; female changing rooms, female bathroom etc.
But typically, teams don't even bat an eyelid at the requirement to provide that. They're aware, they're sound and they get it. There are now more females involved in the sport than ever before, and they're carrying out a variety of roles.
If you want to get involved and you're going to affect the sport positively, just do it!"