The Donegal/Derry Vipers will host the West Dublin Rhinos this weekend in an IAFL1 semi-final in Limavady Rugby Club as both sides battle it out to reach this year's IAFL1 Bowl in Wexford.
Vipers Head Coach Pauric Rose says his side are looking forward to this monumental game, "We cannot wait for the game. We needed a little bit of rest time to recover after a tight physical game against the Antrim Jets. We've had a couple of weeks to work on things at training and everyone is ready and raring to go."
While they've had a few weeks to rest and recover, the same can't be said of their opponents, who came through a tough, physical battle with the Westmeath Minotaurs last Sunday. Rose thinks the fact the Rhinos played last weekend won't have much bearing on the game this week. "Playing the Wild-Card game could be seen as a double edge sword to be honest. On one hand fatigue could set in or you could pick up a few injuries, while on the other it will have allowed them to maintain their sharpness, if you will. Regardless, we've only known for a few days who our semi-final opponent would be, so I've made a point of focusing on our game and on our strengths as everything else is just a distraction," said the Vipers coach.
He did confess that he doesn't know too much about their opponents, "You could probably fit in on a post-it note to be honest. We haven't crossed paths with The Rhinos this year and anything we do know is 2nd or 3rd hand accounts. From the statistics we can see they are pretty much on par with us in terms of offensive and defensive so it should be a realy good game."
We asked him how his team match up against the Rhinos, he said, "I think our game will be well matched as we both have strong defenses and offenses who can make a play. I think thats true of both semi-finals to be fair. Looking at the 4 teams still in with a shout it could be any combination to make it to IAFL1 Bowl and that's a credit to each team and the amount of work they have put in all season."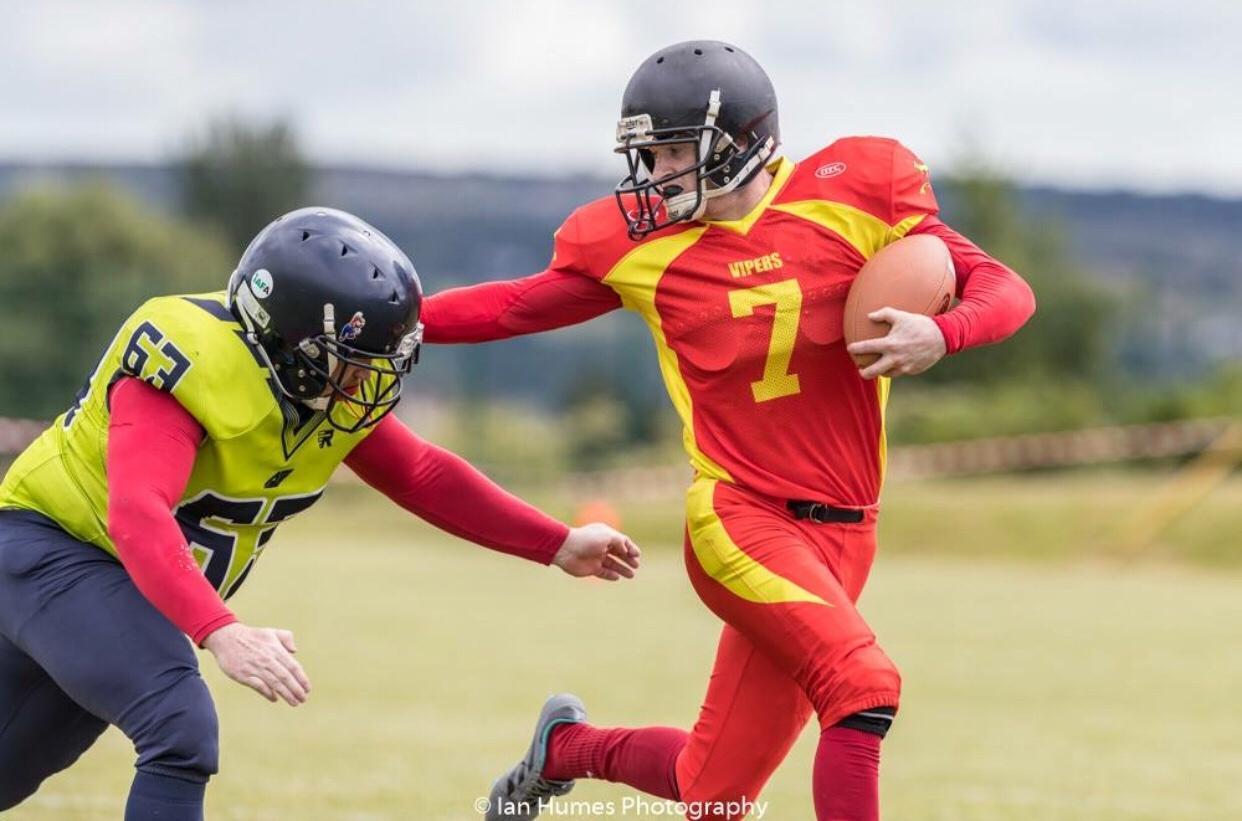 It was very much a gruelling battle last week in Mullingar for the Rhinos so do the Vipers expect a similar type of game on Sunday? Rose said, "More of the same. We had a tough game against the Jets and I believe the Minotaurs did themselves proud against the Rhinos too. We have been involved in some high scoring games and been tight with points conceded but there hasnt been a team that rolled over all season. We are expecting another tight game against the Rhinos. We played them twice last season and the head to head is 1-1 so its all there to play for."
The Vipers know what's expected to win a game of this nature, all they need to do know is put it all together, "Execution is the key. We've been at this 4 years now and been preparing for this match since the Mavericks beat us in the semis last season. Obviously we have a game plan, as will the Rhinos, but whoever executes it better, wins… with a little sprinkle of luck added to the mix," said Rose.
According to their coach the Vipers don't have any major injury concerns, "No, nothing that concerns us. We are blessed with depth and have had 12 or 13 different players score Touchdowns this year so we have options. We can rotate both on offense and defense and for us there is no 'starting 11' there is only the team."
And finally, coach Rose hopes that the people of Donegal and Derry come out in big numbers to support both teams on Sunday, as it promises to be a wonderful occasion, "This is going to be a huge battle that is going to go down to the wire. The previous Bowl Game and semi-final we've been in have been decided inside the last 3 minutes of the game. Sometimes it's hard to translate Facebook followers or page likes into 'bums on seats' especially when we cover 2 counties. We are playing quite far from our previous home ground but we usually get a good crowd out even if its friends and families. But this is the most important game in our clubs short history so we could do with as many '12th men' as possible."
Picture Credit: Ian Humes Photography