The Cork Admirals have secured their second IAFA Youth Championship in a row after defeating the Belfast Knights in yesterday's final.
Prior to the youth playoffs, the Dublin Rebels youth team played the Antrim Jets youth team. The first half was a close affair, with the Rebels holding a 9-0 lead at the break, before the Rebels asserted control in the second half, scoring 20 unanswered points to win 29-0.
In the first semi-final, there was 39 points scored in the first half as the Belfast Knights lead the Louth Mavericks 27-12 at the half. The Knights extended their lead with two touchdowns whilst the Mavericks could only answer with one touchdown, meaning the game ended 40-19 in favour of the Belfast team and their place in the final confirmed.
The second semi final saw the defending champions Cork Admirals take a commanding 20-0 lead over the South Dublin Panthers into the half time break. The Panthers responded with a touchdown of their own at the start of the second half, but this would fall short of what was needed as the Admirals booked their place in the final with a 26-6 win.
The experience the Admirals have in youth football proved to be the deciding factor in the final. The game started with an Admirals touchdown on the very first play. The Knights responded with a score of their own, but the Admirals soon found their way into the game and held a 24-7 lead at half time. The Knights, in their inaugural year of youth football, showed grit and determination but could not match the might of the Admirals, as the Cork team scored 20 unanswered points in the second half to secure back to back national titles.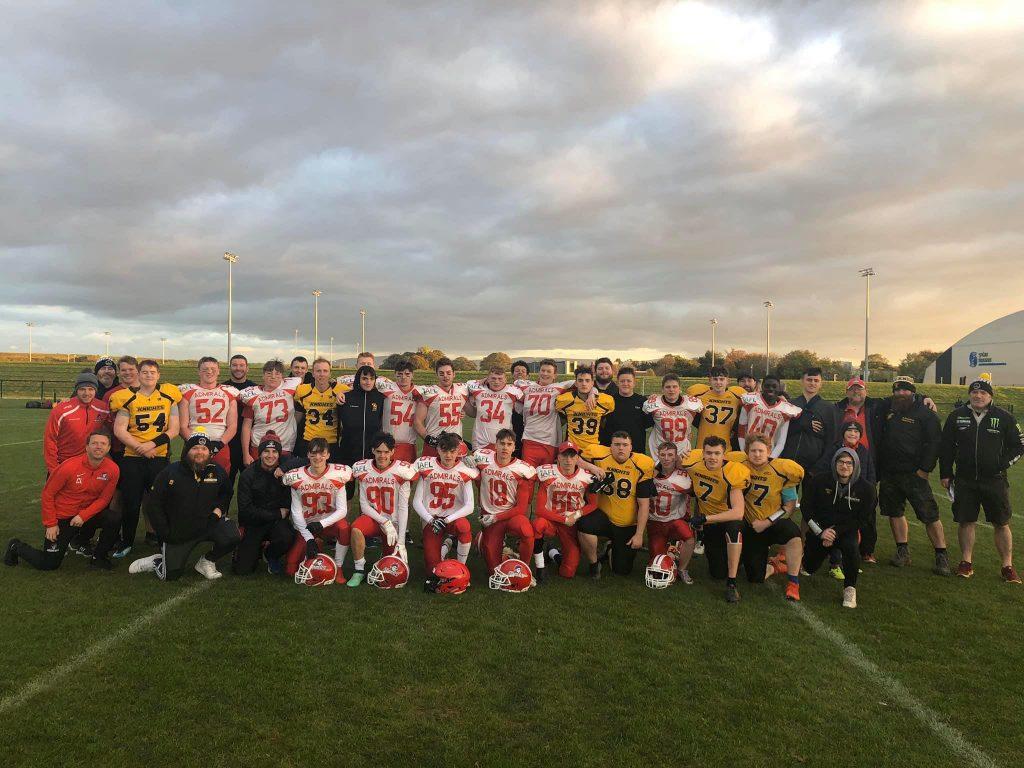 Congratulations to the Admirals on a marvellous unbeaten campaign. The MVP of the championship game was awarded to Admirals QB Michael Hand.
It has been a historic season which has seen records broken in terms of youth teams competing (7) and the number of 15-18 year olds participating (104). Well done and thank you to Director of Youth Football Bill Dougherty for a great season and to all the clubs who participated, particularly the volunteers and coaches who gave up their time to make this happen – the future is bright for American football in Ireland.
Thank you to our Youth Championship Day partner Aulo Fitness for supporting the event.