It's here! Months of hard-hitting, explosive American football action have led us to what is a second Christmas for football fans: Bowl Season!! 3 more games remain on the 2023 AFI Senior Kitted schedule, all determining the Champions for each of AFI Division 2, AFI Division 1 and AFI Premier Division — the latter of which is decided in AFI's annual Shamrock Bowl, Ireland's National Championship Game! Find out below who will be playing for silverware, on what stage they will be competing, and how YOU can follow along and watch the action LIVE!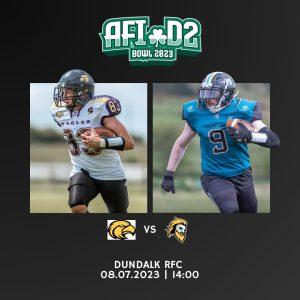 AFI Division 2 Bowl — Saturday July 8th, 2pm, Dundalk RFC
Wexford Eagles (6-0) vs Causeway Giants (3-3)
The first of the 3 Bowl games to take place will be the clash between Wexford and the Giants in AFI Division 2. The Eagles came away victors in both of the regular season games between these 2 teams this year and will be looking to add a third this Saturday. While the Eagles will be looking to make up for a disappointing 2022 campaign by finishing 2023 undefeated, the Giants will be equally determined to cause an upset in a big spot. 2 up and coming teams on the Irish American football scene, we are excited to see the style of football both teams bring to the type of pressure situation a championship game brings! Entry to Dundalk RFC for the 2023 AFI Division 2 Bowl is free, and food will be made available for purchase.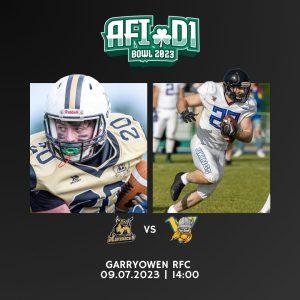 AFI Division 1 Bowl — Sunday July 9th, 2pm, Garryowen RFC
Louth Mavericks (7-1) vs UL Vikings (8-0)
The very next day sees the #1 and #2 seeds in AFI Division 1 face off, with both teams looking to bookend redemption arcs with storybook endings and promotion to the AFI Premier Division. The Mavericks come into this one with a shockingly dominant re-entry season after being promoted from Division 2, beating every team they played in 2023 except for Sunday's opponents, a result they will be looking to avenge with a championship victory. The Vikings, finalists of last year's Division 1 Bowl, will be looking to finish their story with a team-defining win and earn promotion back to a division they have not been part of since before the pandemic. Food and beverages, ice cream and children's facepainting will all be available on the day along with target and deep throw nets at halftime. Entry to Garryowen RFC for the event is free. If you can't attend in-person, you don't have to miss out on the action, as we will be streaming AFI Division 1 Bowl LIVE on our Youtube channel.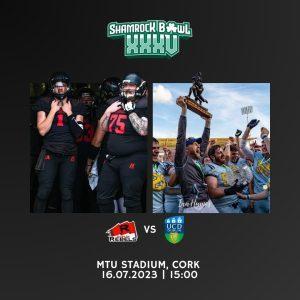 Shamrock Bowl XXV — Sunday July 16th, 3pm, MTU Stadium, Cork
Dublin Rebels (8-0) vs UCD (5-3)
"I think you and I are destined to do this forever."
In a repeat of last year's Shamrock Bowl at Kingspan Stadium, Belfast, the Dublin Rebels face off against current Champions UCD to determine the 2023 AFI National Champions. Both teams feature superstar QBs in Ty Henry (Rebels) and Arun Mooney (UCD) bolstered by fantastic skill position groups, punishing trench-movers and water-tight defenses. UCD won last year's Bowl despite losing to the Rebels earlier that season, a regular season result that was repeated this year… do the Students run it back, or do the Rebels complete the perfect season?? There will be plenty of food and beverages available as well as pre-game and halftime family entertainment, and we are excited to host such a prestigious, fun event in a venue like MTU. Tickets for Shamrock Bowl XXXV are available on Universe.com here! If you can't attend in-person, you don't have to miss out on the action, as we will be streaming Shamrock Bowl XXXV LIVE on our Youtube channel!